At the beginning of the semester and reading BCM215's name- Game Media Industries, I already imagined having to study gaming and gamers, something I had never thought of myself as. Although the entire semester looked over the gaming industry and its different areas, I surprisingly enjoyed the weekly topics and the freedom I had with my DA. I decided after identifying that I've always been interested in celebrities and their reasons for their partnerships, that researching and analysing the involvement and the celebrity's reasons for developing mobile games would allow me to answer the questions I had always had.
I decided to take my approach and analyse celebrity mobile games through a financial and marketing lens. As a commerce student as well as being a communications and media student, I find combining the two areas of my studies interesting. I wanted to see if there was a financial advantage for more than just the celebrity. Identifying if the celebrity is simply placing their name on the game for the financial benefit or if the development of the game is a venture they truly care about was something I knew I wanted to discover.
Initially, my goal was to play and analyse multiple mobile games which I had selected after researching which celebrities had developed games. After selecting the games I wanted to trial, I began my DA, but shortly after my pitch, I knew I needed to change my process because my plan was not achievable so I made the decision to research one game and one celebrity, more specifically, Kim Kardashian Hollywood (KKH) game. The concept of a celebrity can be seen as a commodity or as a commercial product that can be manufactured and traded by promotions and publicities in media industries (Marshall, 1997, 2014). A celebrity can also be seen as having or being a persona. Kim Kardashian has, like all other celebrities, her everyday persona and her celebrity persona which is portrayed and transferred into her KKH game. In the game, her character is your mentor who assists you in developing yourself as a celebrity ‌(Soehendar & Widjayanti, 2020).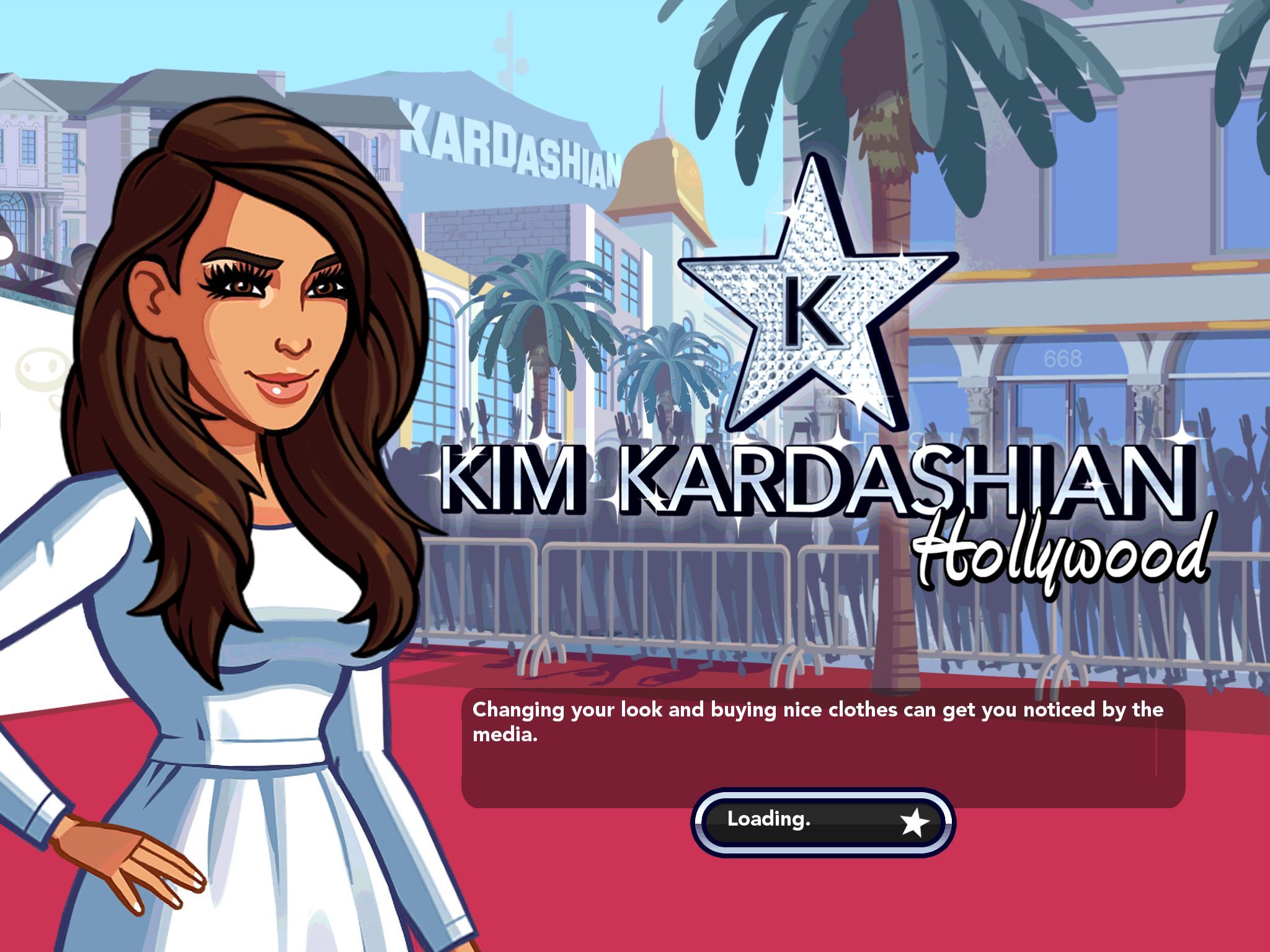 Through my research, I learnt that Kim Kardashian Hollywood was released in 2014 which looking back on that year makes me feel old since I'm 2 years into Uni and that was the year I started high school. 2014 was also the year and time the Kardashian name took off, the marriage to her now ex-husband Kanye West and in general social media grew tremendously. The game in its initial launch accrued more than 42 million downloads and $13.6 million from in-app sales in its first quarter (The Kimpact: How Celebrity Apps are changing mobile gaming 2016). The money the game made in its first quarter was equivalent to 24% of the game developers, Glu Games' revenue. This specific mobile game changed the gaming industry. It was now females who wanted to create and play games when the industry was previously so heavily led by males. Gamers preferred changing outfits rather than slaying dragons and it clearly showed with the success of Kim Kardashian Hollywood.
Financially, Kim Kardashian Hollywood has had significantly large success based on the earning the game as achieved and has been a great business move on Glu Games' behalf especially approaching a celebrity with such a high celebrity status like Kim Kardashian. To partner with and create a mobile game suitable for her largely female audience and followers, it's safe to say that she understood the assignment. She understood her audience and followers, their wants and needs and her understanding of how influential she is from her use of social media, and of course, let's not forget Kris Jenner, they knew this would be the correct move to make. It was also a wise decision that Glu Games used the same mechanics as one of their previously developed games, Stardom Hollywood to use as the base of KKH.
Using the mechanics of an already existing game and rebranding the game to suit the celebrity was a simple way to have Kim Kardashian Hollywood live on the app store allowing for the downloads and ultimately the in-app purchases that accompany the game. Before beginning to analyse KKH, I mentioned I was questioning if the game was on-brand with Kim Kardashian as her aesthetic in all her other business and brand ventures has been neutral, simple but also sophisticated and at an initial glance, KKH looks like the opposite of her aesthetic.
Games aesthetics as I mentioned in my game aesthetics blog post, is a determining factor on if you continue to or stop playing a particular game. Game aesthetics refers to the sensory phenomena that the player encounters in the game (visual, aural, haptic, embodied). Game aesthetics also refers to those aspects of digital games that are shared with other art forms. Lastly, game aesthetics is an expression of the game experienced as pleasure, emotion, sociability, form-giving. (Niedenthal 2009).
Similarly, branding is important. Self-branding is a form of marketing that a person will use to develop a public picture or persona that exhibits their values and reputation and is very popular with celebrities (Fita, 2013). Often they translate this public persona into their ventures such as Kim Kardashian portraying herself as your celebrity mentor in the KKH game. She has also translated this persona in the way she markets and promotes her game on her social media platforms.
Social media marketing (SMM) is very important for the success of any business. SMM works by brands, in this case, Kim Kardashian, although she is a person, has also become a brand, engaging with existing customers (her followers) or reaching new and potential customers or followers to promote new or existing products, culture or missions through sites such as Facebook, Instagram or Twitter (Hayes 2021).
Kim Kardashian has used her platforms to engage with her followers and 7 years later still promotes her game concluding that although she may have created this game intending to make money, the game has evolved to be more than just a game. It's become a passion project she can pass down to her kids and followers to enjoy. The success of this game has to be attributed to her celebrity status and hence the financial benefits the game developers accrued as well as her portion of the profit. You can't have finance without proper marketing.
References:
Fita, M 2013, What is Self Branding?, 36creative, 36creative, viewed 29 October 2021, <https://36creative.com/branding/1901/self-branding&gt;.
Hayes, A,2021, What Is Social Media Marketing?, Investopedia, viewed 29 October 2021, <https://www.investopedia.com/terms/s/social-media-marketing-smm.asp>.
Marshall, PD 2014, Celebrity and Power : Fame in Contemporary Culture, University of Minnesota Press, Minneapolis. Available from: ProQuest Ebook Central. Viewed 29 October 2021], < https://ebookcentral.proquest.com/lib/uow/reader.action?docID=1762165>
‌Niedenthal, S 2009, What We Talk About When We Talk About Game Aesthetics, DIVA, DiGRA Online Library, viewed 24th September, 29th October 2021, <https://www.diva-portal.org/smash/record.jsf?pid=diva2%3A1408066&dswid=7801&gt;.
‌Soehendar, TP & Widjayanti, EP 2020, THE MANIFESTATION OF KIM KARDASHIAN'S AESTHETIC AND GLAMOUR LABORS IN KIM KARDASHIAN: HOLLYWOOD MOBILE GAME | E-Journal of Cultural Studies, Unud.ac.id, viewed 29 October 2021, <https://ojs.unud.ac.id/index.php/ecs/article/view/70497>, <file:///Users/olivialopez/Downloads/70497-373-197105-1-10-20210210.pdf>.
The Kimpact: How Celebrity Apps are changing mobile gaming 2016, Mixpanel, viewed 29 October 2021, <https://mixpanel.com/blog/celebrity-apps-changing-mobile-gaming/&gt;.